Pre-salt oil deposits are most commonly found in offshore Angola and Brazil. In Brazil, significant challenges include drilling in ~3000m of water and through up to 7000m of rock as well as an aggressive chemical environment which contains high levels of carbon dioxide (CO2) and varying levels of hydrogen sulphide (H2S). In addition, the local pressures are high enough to ensure that the CO2 is a supercritical fluid. Producing oil from such a depth and offshore requires significant use of non-bonded flexible pipes, reducing weight and providing additional design flexibility.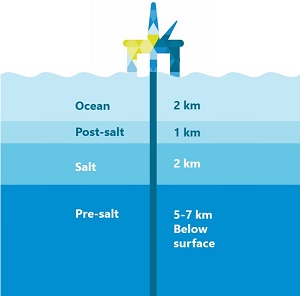 CO2 and H2S pose a significant corrosion risk to steel structures and in its supercritical form, CO2 specifically can be very damaging to polymers and polymer composites. Consequently, the challenges of corrosion of steel and the loss of mechanical properties in polymers may significantly reduce lifetime expectations in service. Thermoplastic Composite Pipes (TCP) fabricated from e-sabic™ PEEK polymer are now being evaluated as a potential next generation of flexible pipe solutions to meet these challenges in the 
A hosted by Smithers Rapra focused on the design and qualification of an innovative solution for use in such demanding environments. Entitled "The Durability of PEEK Polymers in Thermoplastic Composite Pipes for Subsea Oil and Gas Applications", key points discussed in this well-attended event included: 
The main challenges of pipe selection for the Brazil pre-salt oil fields.
How and why e-sabic PEEK/carbon fibre material was selected for evaluation of suitability for TCP application in Brazilian pre-salt fields 
The selection, design and manufacturing process
Advantages of the composite material variants chosen
A look forward to other possible applications for such materials in the oil and gas field 
Close co-operation the key to success
The Hybrid Flexible Pipe (HFP) from (TFMC) has been proposed as a solution to the challenges described. Led by TFMC and using the proven  solution from Magma Global and based upon , as a fundamental 'building-block' the webinar details how this exciting hybrid solution from TFMC was conceived and implemented for optimum weight reduction, minimum bend radius (MBR) stability and other benefits. The requirements for such applications include: high strength to weight ratio; ability to withstand elevated temperatures and pressure; and a high level of chemical resistance, in particular to supercritical CO2; furthermore, ease of handling and installation are essential. The Hybrid Flexible Pipe from TFMC combines the most appropriate and beneficial features of 'conventional' steel flexible design with m-pipe TCP solution to meet these challenges.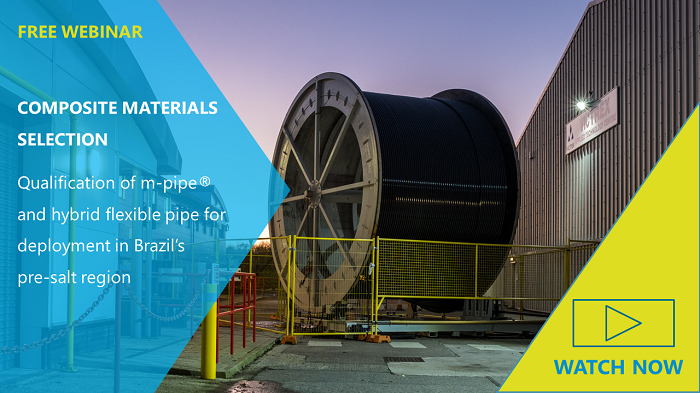 The well-attended and lively session was led by: 
Geoff Small: Head of Technology for Energy at e-sabic
Mick Mullen: Analysis Manager, Magma Global, which produces m-pipe, a fully-bonded carbon composite pipe
Thomas Epsztein, Composite Materials Project Manager, TechnipFMC
Feedback was very positive, and a series of stimulating points were raised during the interactive Q&A session, including:
Does the HFP still use a traditional liner along with the carbon fibre reinforced tapes? 
What is next in the qualification programme? Will the customer require any more specific tests to be performed?
I was in Brazil recently and had numerous questions on testing pipe under load and temperature, followed by testing for permeation under temperature. Have you performed these types of testing and if so can you share the results?
What carbon fibres have been qualified, and are they sized or unsized?
Can you talk a bit more about the reel size for TCP/HFP compared to conventional flexible risers?
Does the high glass transition temperature of PEEK cause issues with low temperature brittleness? From the slide it appears that PVDF has good low temperature performance
The presentation focuses on pre salt in Brazil. Do you see benefits of this technology beyond Brazil?
For those interested in exploring this innovative solution in more depth, watch  on the qualification of m-pipe® and hybrid flexible pipe for deployment in Brazil´s pre-salt region.
If you have any questions or are interested in digging even deeper, please get in touch at  or contact us via e-sabic.com. We'd love to hear from you.